Jereh Provides Compressor Packages and TEG Dehydration Units for Underground Gas Storage Project in Jiangsu
Yantai/June 25, Towngas Gas Storage Project was put into use officially, for which Jereh provided engine driven compressor packages and TEG dehydration units. It is China's first underground salt carven gas storage for natural gas peak-shaving in urban areas.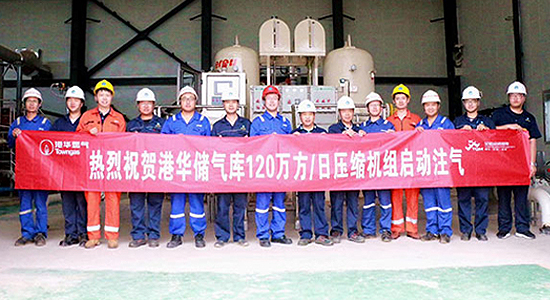 As domestic needs for natural gas keep growing, the importance of gas storage for peak shaving has started to manifest in recent years. The project that Jereh participated in is located in Jintan, Jiangsu, where has an underground salt mine with a huge space to store natural gas.

Jereh R&D team took in-depth analysis regarding natural conditions of Jintan such as discharge pressure range under special operation, thus developing high-power, high-pressure compressor packages for this project. Also, they re-designed pipe layout in an innovated way to use less flanges and reduce the risk of natural gas leakage.

A filtration unit is added to the vent, which prevents lubricants from entering the storage during gas injection, guaranteeing the safety of operation. TEG hydration units of this project are also supplied by Jereh. Leveraging on the business layout across the whole industry chain and its process technology, Jereh is capable of offering optimal and integrated solutions for gas gathering, transmission and storage project.

The project will play a key role in peak shaving after being put into use, which can supply emergency gas source for adjacent towns, bringing efficiency for urban energy utilization.